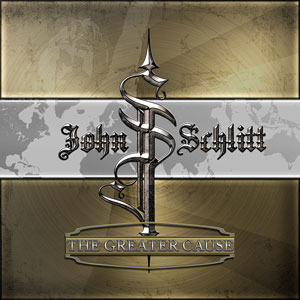 |  Gravadora: 4K Records |
Live it Loud
Letra: Chris Rodriguez, Dan Needham, John Schlitt e Scott Faircloff 

Welcome to the planet, son
It's your life, it's just begun
On this road you must decide
Walk in faith but compromise
Watch the world, spinning round
What's your legacy?
Live it loud
Like a fire, deep inside
That won't be contained
Live it loud
Live it loud
Life's bigger when you come unbound
Say good-bye to all the hesitation
Live it loud
Lost yesterday but now you're found
Now the only thing you have to do is
Live it loud
This world's spinning round and round
Think about your legacy don't you want to
Live it loud
Check your line of latitude
Don't forget the golden rule
Words may come to steal your joy
Love speaks louder than the noise
One light leads you
His word guides you
Guides you on
This world needs you
Let love lead you
Lead you on
When you're standing at the doorway
What will you choose?
Listen to her wisdom – she will not let you lose
More than words, screaming out
On your megaphone
Take Me Home
Letra: Andrew Ramsey, Dan Needham e John Schlitt

He thought he'd make it
He was ready now to take control
Took his daddy's money
Took his freedom
And he walked out the door
Who can say what life will bring
End up as a pawn or a mighty king
Now you find the things you wanted
Are the things that cost you your soul
Your life ain't over when the money runs out
Just say the words, let your spirit cry out
Take me home – i've been away so long
Take me home – i can see i was wrong
To keep on living like this life i live
Won't cost me at all
I wish i knew then what i know now
'cause it caused me to fall
There's a time when you realize
There must be something better than this hollow life
Sometimes the grass it isn't greener on the other side
My life ain't over – i'm just turning around
I heard the word and my spirit cried out
Take me home (i was wrong)
It's no one's fault but my own
Take me home
I want to go back home
Go back home
I want to thank you, thank you for the second chances
'cause every time i turn away you understand
And if it wasn't for your love i'd never make it
'cause now i stand here as a healed but broken man
Your life ain't over when the money runs out
Just say the words, let your spirit cry out
Love Won´t Leave Me Alone
Letra: Ed Cash e Dan Needham

You got what i need
Real love – how can it be
Deep down or up high
Every day and every night
Wherever i go, whatever i see
You were there surrounding me
From my first breath to my last
Love won't leave me alone
Leave me alone, i say leave me alone
Love won't leave me alone
Leave me alone here
Way deep down in the soul
All that i know, i know
All that i know is that
Love won't leave me alone
I follow, you lead
From the mountain to the valley
Don't leave me where i am
Got my eyes on the promised land
Wherever i go, whatever i see
I need you there surrounding me
From the cradle to the grave
From the cradle to the grave
One of These Days
Letra: Dan Needham

Outside it is getting warm
People finding truth, something worth fighting for
One word and a flame ignites
Burning down the walls, lighting up the night
Who knew, it'd come
One of these days
Sometimes you can wait too long
And the life you live makes you vulnerable
How long 'till we stand and fight?
'Till the hunger grows and the pain is right?
It all will change
One of these days
It all will change
When will truth be the truth again?
When will hope not fade away?
When will change ever come to an end?
I wonder if today
Is "one of these days?"
Long ways from paradise
Even longer still when you realize
How much did it slip away
When we turned our heads
Looked the other way
But now we have to take it back
And now we don't have to wonder
One of these days with my eyes wide open
One of these days gonna take a stand
How long 'till we stand and fight?
'Till the hunger grows and the pain is right?
Faith & Freedom
Letra: Dan Needham e Ian Eskelin

I'm an american
Red, white & blue
And i'm a citizen
Of this world and of heaven
Some things were meant to be together
I believe in faith & freedom
God & country too
I believe with faith & freedom
We're gonna make it through
They try to knock us down
But we will stand and fight
It's time to show them how
Truth can never be divided
We have strength when we're united
We gotta rise up
We gotta stay strong
'cause everything's on the line
We gotta rise up
We gotta stay strong
To save our way of life
Don't lose your freedom
Let's talk about faith
End of Fear
Letra: Dan Needham e Ian Eskelin 

Don't be afraid…
When i turn on my tv
The whole world's falling apart
I'm reading today's headlines
It's like taking a walk in the dark
No matter how it all may seem
I won't let it get to me
This is the end of fear
This the end of my fear
I'm learning how to let it go
I'm giving you control
This is the end of fear
This the end of my fear
But now i walk in freedom
Trusting who you are
You make the biggest of the biggest problems
Suddenly seem small
I don't have to be afraid
I hear you when you say
This is the end of fear
He said 'don't be afraid'
With every end there's a beginning
And this is where i start . . . . .
I'm giving all of my control
I'm learning how to let it go
You've given me more than i know
End of my fear
Say good-bye to your fear…
Where I Wanna Be
Letra: Dan Needham, John Schlitt e Scott Faircloff

Behind this old white picket fence
Are some things we need to mend
With something more than clever words and alibis
While some have tried with all their might
To take the wrongs and make them right
Without Love it can never change
And every time we try will only be in vain
If love could set the world on fire
What would it burn away
What would remain
Would it build a bridge between us?
If love would rain for 40 days
Would it wash away the pain
Of bitter days and all the lies that came between us?
And conquer all the fears in me
That's where I wanna be
And now we're here at river's edge
We knew we'd be back here again
Face to face with all the demons in our past
And if we lay down all our pride
We can reach the other side
And watch the future come alive
And light a flame to all our hopes and dreams inside
'Cause Love can do no wrong
And Love will find a way
Just when you think your world is falling down
Love is the one thing that remains
Hope That Saves the World
Letra: Dan Needham e John Schlitt

Raised on hollywood
Fast life, looking good
Left right, right wrong
Don't you see what's going on?
Good man, bad man
What's the difference in the end?
We're incomplete
Blinded with our eyes wide open
Why can't we see
You're the hope
That we need
You lit the stars
You spun the earth
You gave us life
So tell me why can't we see?
You're the hope that saves the world
Put our faith in presidents
Powerball and weathermen
Legislate a lottery
Then promise all a sunny day
Now the clouds are in the sky
And once again we're asking why
We're incomplete
Always searching for the greater cause
Run
Letra: Gene Miller, Dan Needham e John Schlitt

No use crying, leave your tears at the door
You keep buying what they sold you before
You won't change it
But you can't take it no more… no more
Look out – maybe you're beginning to see
Deep down you know 'bout the way it should be
I don't need to tell ya
Fear can be so captivating
You are fine
Just let go
By this time
You should know
Run, you can run
To the light at the end of the way
Run, will you run
Run from the things that remind you
Things that will bind you
You've got to leave it behind
No use dying – you've got living to do
You keep trying but it's not up to you
A voice is calling
A hand to pull you through… a hand to pull you through
All the pain
That you've known
No more shame
Let it go
Life – is the choices we make
And god knows where they'll take us to
So right now i will follow the light
And i trust it will lead me on… lead me on
All the pain
That you've known
No more shame
Let it go
Run, you can run
To the light at the end of the way
Run, when you run
Run from the things that remind you again
The Gift (Dorla´s Song)
Letra: Andrew Ramsey, Dan Needham e John Schlitt

We were kids, we were young
She was pretty, I was dumb – new love
Through the years, good and bad
Never knew just what I had – true love
Busy chasing all my selfish dreams
She saw something else I couldn't see
She picks me up when I fall apart
She's the only fire that warms my heart
It's a blessing every day I get to see her face
I could never ever ask for more than this
She is such a gift
Thank you for the gift
Facing fears every day
She always knows just what to say – with love
Finding faith, hand in hand
She makes me a better man – through love
In a world where trust is hard to find
Can't believe I get to call her mine
I could thank You for so many things
The life I've lived, the things I've seen
But if I had to choose I'd throw it all away
'Cause the greatest gift You've given me
Is standing right in front of me
She's the answer to every prayer I've ever prayed
She is such a gift
Lord, thank you for the gift
The Cross Remains
Letra: Dan Needham e John Schlitt

Though the hardest heart of men
Try to lead us to an end
We may fall, still our hope remains
When the darkness turns to light
When the flames begin to die
Through the smoke the cross remains
It is time to act beyond our good intentions
Pushing back no matter what the cost
We won't let them build an altar on our sorrow
There'll be no laughing at our scars
They're now a part of who we are
Though there's tension in the air
Sometimes more than we can bear
Still we find our hope remains
Yet the story stays the same
With different chapters, different names
Through it all the cross remains
We're beginning now to see
The sacrifice of being free
Remember, it's not what they say
Just watch what they do
The evidence has fallen down
Right in front of you
It's right in front of you
Through it all the cross remains (x 2)
Through the smoke
Through the tears
Through so many years
The cross remains
When the darkness turns to light
When the flames begin to die
The cross remains, the cross remains
Though there's tension in the air
Sometimes more than we can bear
Through it all the cross remains